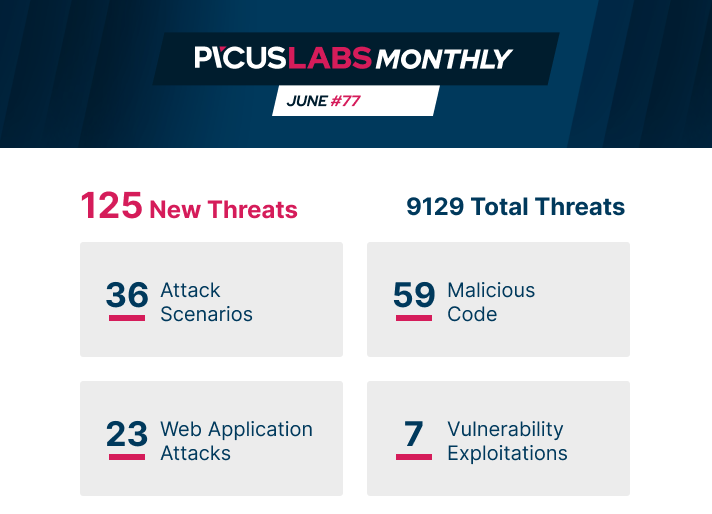 JUNE'S THREAT: MAZE
Customized Cobalt Strike Beacons
Although Cobalt Strike is a penetration testing product, it has become popular amongst targeted threat actors. A Cobalt Strike Beacon has various functions, including, but not limited to command execution, key logging, file transfer, SOCKS proxying, privilege escalation, mimikatz, port scanning, and lateral movement.
You can test the effectiveness of your security controls against Cobalt Strike Beacons with '748618 Cobalt Strike Beacon used in Military Themed Campaign' in Picus Threat Library.
JUNE'S THREAT ACTORS
Ke3chang
Picus Threat ID: 217342, 614917, 550271

Aliases: APT15, Mirage, Vixen Panda, GREF, Playful Dragon, RoyalAPT

Target Regions: Europe, US, South America, Central America

Target Industries: Oil, Government, Military

Malware:

Vilsel Trojan
Cycldek
Picus Threat ID: 349362, 663135, 241620, 747334

Aliases: Goblin Panda, Conimes

Target Regions: Southeast Asia

Target Industries: Government

Malware:

USBCulprit Infostealer

Tor2Mine
Our world-class red team analyzed 500.000 TTPs to identify the top 10 most common ATT&CK techniques.
ATTACK SCENARIOS
APT39 Threat Group
Picus Threat ID: 840562
ACTIONS
1. Create a scheduled task using schtasks
Technique: T1053 Scheduled Task
Tactic: Execution, Persistence, Privilege Escalation
2. Display list of applications and services using "tasklist /v"
Technique: T1049 Process Discovery
Tactic: Discovery
3. Pass the Hash via PsExec Tool
Technique: T1075 Pass the Hash
Tactic: Lateral Movement
...
8. File Exfiltration Over DNS
Technique: T1048 Exfiltration over Alternate Protocol
Tactic: Exfiltration
Netwire RAT
Picus Threat ID: 506809
ACTIONS
1. Create a new Registry Key for Autorun
Technique: T1060 Registry Run Keys / Startup Folder
Tactic: Persistence
2. Process Injection into Notepad via Process Hollowing
Technique: T1093 Process Hollowing
Tactic: Defense Evasion


3. Collect User Keystrokes into a File
Technique: T1056 Iput Capture
Tactic: Credential Access
...
17. File Exfiltration Over HTTP Port 80
Technique: T1048 Exfiltration over Alternate Protocol
Tactic: Exfiltration
Atomic Attacks
Process Injection by using NtMapViewOfSection Function
Picus Threat ID: 741095

Technique: T1055 Process Injection

Tactics: Defense Evasion, Privilege Escalation
ETW Logging Bypass with Environment Variable Spoofing
Picus Threat ID: 287758

Technique: T1089 Disabling Security Tools

Tactic: Defense Evasion
Mimikatz Execution with Evasion by using BetterSafetyKatz
Picus Threat ID: 764801

Technique: T1003 Credential Dumping

Tactic: Credential Access
MALICIOUS CODE
Copperhedge Backdoor
Picus Threat ID: 462340

Signature Technique: T1071 Standart Application Layer Protocol

Target Regions: Europe, Middle East, Southern Asia, Eastern Asia, US

Target Industries: Finance, Media, Technology
Gh0st RAT
Picus Threat ID: 378154, 572955, 615400

Signature Technique:T1008 Fallback Channels

Target Regions: Europe, US

Target Industries: All
Kingminer Botnet
Picus Threat ID: 563592

Signature Technique: T1008 Fallback Channels

Target Regions: All

Target Industries: All
WEB APPLICATION ATTACKS
Cisco UCS Director Cloupia Script Directory Traversal
Picus Threat ID: 269922

OWASP Top 10: A1 - Injection

CVSS 3 Base Score: 9.8 Critical

CVE: CVE-2020-3243

Affected Product: Cisco UCS Director
Node JS Server Side Template Injection (SSTI)
Picus Threat ID: 757576

OWASP Top 10: A1 - Injection

Affected Product: Node JS
LimeSurvey Stored XSS
Picus Threat ID: 250932

OWASP Top 10: A7 - Cross-Site Scripting (XSS)

CVSS 3 Base Score: 6.1 Medium

CVE: CVE-2020-11456

Affected Product: LimeSurvey before 4.1.12+200324
VULNERABILITY EXPLOITATIONS
Firefox DACL Sandbox Escape
Picus Threat ID: 513625

CVE: CVE-2020-12388

CVSS 3 Base Score: 10.0 Critical

Affected Product: Firefox ESR < 68.8 and Firefox < 76
SMBleed Microsoft SMB Server Denial of Service
Picus Threat ID: 859715

CVE: CVE-2019-10149

CVSS 3 Base Score: 8.8 High

Affected Product: Microsoft Server Message Block 1.0 (SMBv1)
Microsoft Windows OLE RPC Marshalling Buffer Overflow
Picus Threat ID: 747416

CVE: CVE-2020-1281

CVSS 3 Base Score: 8.8 High

Affected Product: Microsoft Windows OS
SIGMA RULES
WiFi Credential Dumping via Network Shell
Picus Sigma ID: 6760

Detected Method: WiFi Credential Dumping via Netsh

Technique: T1003 Credential Dumping

Tactic: Credential Access
Process Injection via Frida Framework
Picus Sigma ID: 7356

Detected Method: Process Injection with Frida Framework

Technique: T1055 Process Injection

Tactics: Defense Evasion, Privilege Escalation
Suspicious Conhost.exe Process Execution
Picus Sigma ID: 4184

Detected Method: Signed Binary Proxy Execution via Conhost.exe

Detected Technique: T1218 Signed Binary Proxy Execution

Tactic: Defense Evasion, Execution