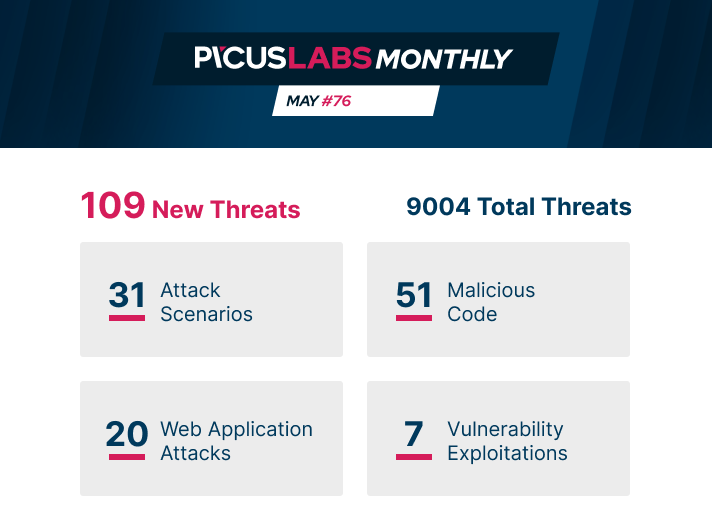 MAY'S THREAT: MAZE
The Rise of Maze Ransomware
Unfortunately, Maze ransomware has been in the news quite often in the last months. In May, the Maze ransomware gang have started posting payment card data stolen during a breach at state-owned Banco de Costa Rica. The data leak, which consists of a 2 GB CSV file containing details of various Mastercard and Visa credit or debit cards, has been verified by security researchers. The recent Maze ransomware attack on tech major Cognizant Technology Solutions hurt the company's revenues and corresponding margins by $50-$70 million. Lastly, nuclear missile contractor Westech has been breached by the Maze gang.
You can test the effectiveness of your security controls against Maze ransomware with '390945 Maze Ransomware Scenario' in Picus Threat Library.
MAY'S THREAT ACTORS
Lazarus Group
Picus Threat ID: 381703, 78307, 677859, 805294, 582408

Aliases: Hidden Cobra, Guardians of Peace, Zinc, Nickel Academy

Target Regions: Europe, Middle East, Southern Asia, Eastern Asia, US

Target Industries: Finance, Media, Technology

Malware: Dacls RAT
Picus Labs has updated the Picus Threat Library with new attack methods for malware samples used by Lazarus. For more information, check the blog post Lazarus (Hidden Cobra) Group Employs HTA Embedded BMP Files

Naikon
Picus Threat ID: 238761, 677859, 805294, 582408

Target Regions: ASEAN countries

Target Industries: Government, Defense

Malware:

Aria-body Backdoor
Hangover
Picus Threat ID: 265213, 799984, 473207, 746210, 556555, 345766

Aliases: Patchwork, Neon, Viceroy Tiger, MONSOON

Target Regions: US, Southern Asia

Target Industries: Government, Military

Malware:

BackConfig Trojan
Our world-class red team analyzed 500.000 TTPs to identify the top 10 most common ATT&CK techniques.
ATTACK SCENARIOS
APT29 Threat Group
Picus Threat ID: 647501
ACTIONS
1. Execute Invoke-UserHunter Function (PowerView)
Technique: T1087 Account Discovery
Tactic: Discovery
2. Display the names of all network shares using "net share" command
Technique: T1049 System Network Connections Discovery
Tactic: Discovery
3. Kerberoasting Attack by using Invoke-Kerberoast
Technique: T1028 Kerberoasting
Tactic: Credential Access
...
8. C2 Communicate Over HTTPS Port 443
Technique: T1043 Commonly Used Ports
Tactic: Command and Control
Maze Ransomware
Picus Threat ID: 390945
ACTIONS
1. Delete Shadow Copy using Windows Management Instrumentation (WMI)
Technique: T1490 Inhibit System Recovery
Tactic: Impact
2. Connect to RDP using mstsc.exe
Technique: T1076 Remote Desktop Protocol
Tactic: Lateral Movement


3. Gather credentials using Mimikatz Tool
Technique: T1003 Credential Dumping
Tactic: Credential Access
...
9. Disable Automated Windows Recovery Features
Technique: T1490 Inhibit System Recovery
Tactic: Impact
Atomic Attacks
Process Injection by using EtwpCreateEtwThread Function
Picus Threat ID: 614692

Technique: T1055 Process Injection

Tactics: Defense Evasion, Privilege Escalation
Dism.exe OS Binary (Lolbas) used in Signed Binary Proxy Execution
Picus Threat ID: 590774

Technique: T1218 Signed Binary Proxy Execution

Tactic: Defense Evasion, Execution
Session File Dumping by using Sessionsearcher Tool
Picus Threat ID: 525672

Technique: T1005 Data from Local System

Tactic: Collection
MALICIOUS CODE
Pwndlocker Ransomware
Picus Threat ID: 894642

Signature Technique: T1486 Data Encrypted for Impact

Target Regions: US

Target Industries: Local Government
Aria-body Backdoor
Picus Threat ID: 630462, 754010

Signature Technique: T1024 Custom Cryptographic Protocol

Target Regions: ASEAN countries

Target Industries: Goverment, Military
Dacls Remote Access Trojan
Picus Threat ID: 805294, 783079, 677859

Signature Technique: T1020 Automated Exfiltration

Target Regions: Southern Asia, Eastern Asia

Target Industries: Finance
WEB APPLICATION ATTACKS
Pulse Secure SSL VPN Command Injection
Picus Threat ID: 604838

OWASP Top 10: A1-Injection

CVSS 3 Base Score: 8.0 High

CVE: CVE-2019-11539

Affected Product: Pulse Secure Pulse Connect Secure
Microsoft SharePoint Remote Code Execution
Picus Threat ID: 549830

OWASP Top 10: A1-Injection

CVSS 3 Base Score:8.8 High

CVE: CVE-2020-0932

Affected Product: Microsoft SharePoint
Django GIS Functions SQL Injection
Picus Threat ID: 211963

OWASP Top 10: A1-Injection

CVSS 3 Base Score:9.8 Critical

CVE: CVE-2020-9402

Affected Product: Django 1.11 before 1.11.29
VULNERABILITY EXPLOITATIONS
Google Chrome WebAudio UAF
Picus Threat ID: 615448

CVE: CVE-2019-13720

CVSS 3 Base Score: 8.8 High
Exim Privilege Escalation
Picus Threat ID: 859715

CVE: CVE-2019-10149

CVSS 3 Base Score: 9.8 Critical
Windows Installer Elevation of Privilege
Picus Threat ID: 792978

CVE: CVE-2020-0683

CVSS 3 Base Score: 7.8 High
SIGMA RULES
Windows Hash Database Files Dumping via Volume Shadow Copy
Picus Sigma ID: 7796

Detected Method: Credential Dumping via Volume Shadow Copy Service

Technique: T1003 Credential Dumping

Tactic: Credential Access
DLL Injection with PowerShell
Picus Sigma ID: 5167

Detected Method: DLL Injection via Parent PID Spoofing

Technique: T1055 Process Injection

Tactics: Defense Evasion, Privilege Escalation
Proxy Execution of Application
Picus Sigma ID: 7171

Detected Method: Proxy Execution via Program Compatibility Troubleshooter

Detected Technique: T1085 Rundll32

Tactic: Defense Evasion, Execution