The Customer
Meet Andrea Licciardi, Senior Cybersecurity Manager at MAIRE. MAIRE is a technology and engineering group committed to accelerating the Energy Transition. They excel in nitrogen fertilizers, hydrogen, circular carbon, fuels, chemicals, and polymers across 45 countries. With 6,500 employees and over 20,000 project collaborators worldwide, they're dedicated to inspiring innovative sustainability in these vital sectors.

The Challenges

Lack of Visibility into Security Control Effectiveness
At MAIRE, cybersecurity is not just a priority; it's a fundamental necessity. To strengthen its defenses and ensure the highest level of security, the company operates a dynamic security program called Cyber Fusion Center. This dynamic and collaborative hub combines all facets of cybersecurity, including threat intelligence, security operations, threat detection, incident response, and more. The aim is to ensure a proactive approach to security and maintain cyber threat readiness at all times.
MAIRE has invested heavily in establishing a comprehensive set of security controls to best defend against the latest cyber threats. However, one of the key challenges their security team faced was assessing the effectiveness and configuration of these controls. This was a requirement to ensure they were achieving the intended level of protection. Despite conducting regular penetration tests and vulnerability scans, the team struggled to keep pace with the fast evolving threat landscape. They needed a platform that could help them to assess their defenses continuously and consistently against the latest cybersecurity attacks.

The Solutions
Continuous Security Control Validation for Enhanced Protection
Licciardi highlights that traditional assessments like penetration testing and vulnerability scanning offered only a snapshot of the security posture for MAIRE, lacking the ability to continuously validate and measure their network security, endpoint, and email controls to effectively block the latest cyber threats. This lack of visibility made it difficult to make informed spending decisions and created a false sense of security.
However, a transformative shift occurred when they recognized the need to continually and accurately validate their security controls, ensuring that their investments were indeed delivering the best return from their budgets. With this imperative need, MAIRE embarked on a quest to find a comprehensive security control platform, eventually discovering Picus Security, a platform recognized by Licciardi and the security team as the top choice in the Breach and Attack Simulation (BAS) and Security Control Validation market.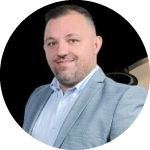 Andrea Licciardi
Senior Cybersecurity Manager | MAIRE
"Picus, a top solution in the Breach and Attack Simulation and Security Validation markets, stepped in where our traditional tests fell short. It gives the real-world attack simulations we need to optimize our defenses against the latest threats."

The Result
Maximized Cyber Security Efficiency and ROI
Licciardi describes the impact of the Picus Platform as truly remarkable. MAIRE has witnessed a profound transformation, leading to a more proactive and well-prepared approach to facing threats. What distinguishes the Picus Platform is its exceptional ability not only to identify security gaps, but also to provide actionable insights for mitigation. Licciardi highlights that when weaknesses or gaps are identified, Picus delivers vendor-specific prevention signatures, substantially cutting down the time and effort needed for his team to refine their security controls.
Moreover, with metrics for individual technologies in place and a clear visibility of their overall security risk, Licciardi highlights that they can now accurately measure and demonstrate the effectiveness of their security controls, resulting in substantial ROI improvements across their security investments.
"The Picus Platform has strengthened our security and revolutionized our security operations, resulting in significant time and cost savings. It's now the cornerstone of our cybersecurity strategy."
In essence, the Picus Platform acts as a powerful force-multiplier, automating previously manual processes and delivering significant time and cost savings to MAIRE. Today, MAIRE stands more powerful than ever in the face of the dynamic landscape of cyber threats.
#Engineering Services
#Case Study