Keep up to date with latest blog posts
Purple Academy turns 6 months old this week. Since its launch, over 4,000 learners from 117 countries have enrolled in and completed more than 8000 courses in total. The academy learners always motivate us and increase our willingness to support the cybersecurity community. We are pleased to support such a hard-working community!
About Purple Academy
Purple Academy is a free online resource designed to provide the cybersecurity community with open access to learning content in a range of areas. The Academy was set up by Picus Security as a way to give back to the industry and we are committed to continuously improving the platform by releasing new content.
Purple Academy offers different learning paths. Each learning path is comprised of multiple micro-courses. Each micro-course lasts around one hour, is focused on a particular topic, and is available to access and complete at leisure.
Students that complete a course or a learning path receive either a badge or certificate in recognition of their efforts. They also earn Continuing Professional Education (CPE) credits.
Dr. Suleyman Ozarslan, Co-founder of Picus Security and Director at Purple Academy, said: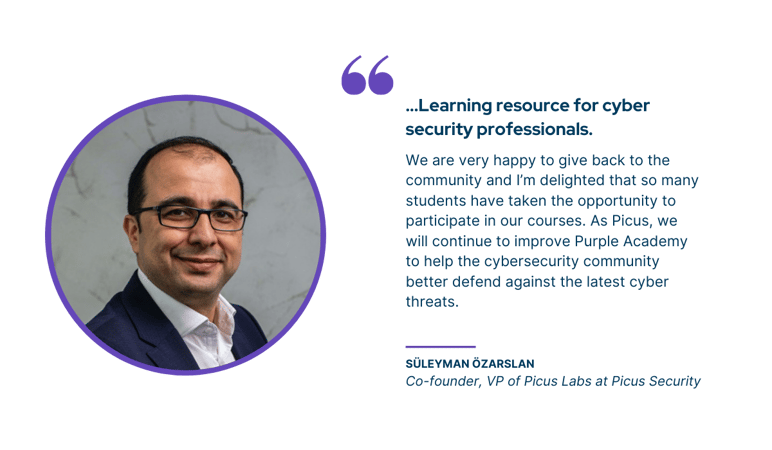 Purple Academy in Numbers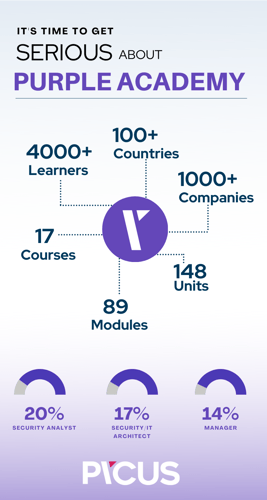 Whether you're starting out in cyber security or have been working in the industry for years and want to learn new skills, Purple Academy has content for you. Security professionals currently enjoying our courses include:
C-level executives
Information security & risk managers
Security analysts
SOC engineers
Incident responders
Students
Feedback from our Learners
Here's what some of our learners have to say about Purple Academy: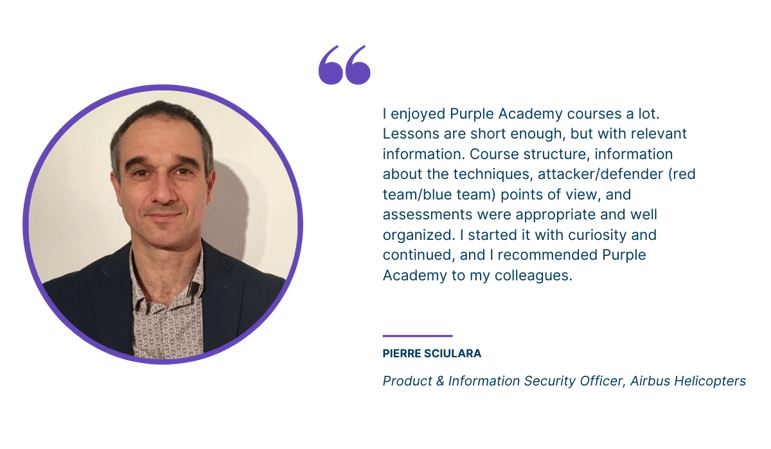 Our learners share their Purple Academy experiences on LinkedIn. Here is Alice's post about her success!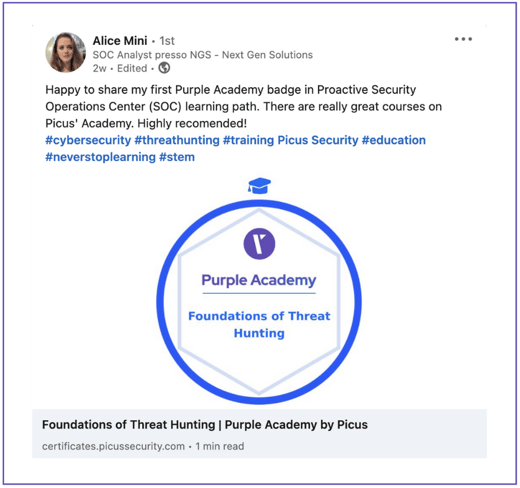 Learning Paths and Courses
Purple Academy currently offers 17 courses split across three learning paths:
In the future, we are planning to release new learning paths focused on Red, Blue, and Purple Teaming topics.
The first learning path provides a comprehensive overview of the MITRE ATT&CK framework. This learning path consists of 11 courses, including a beginner's course about MITRE ATT&CK and a course dedicated to each Top 10 ATT&CK technique. In this learning path, learners develop their skills related to ATT&CK concepts and obtain essential knowledge of use cases for Red, Blue, and Purple Teaming.
Proactive Security Operations Center (SOC)
The second learning path includes five courses themed around common SOC principles. These cover areas including log management and alert management, detection rule development, EDR & SIEM platforms, threat hunting, and operationalizing MITRE ATT&CK.
Continuous Security Validation
The newest Purple Academy learning path aims to improve the skills of cybersecurity professionals in Continuous Security Validation (CSV), Breach and Attack Simulation (BAS), and adversary emulation. The first course is about Breach and Attack Simulation. We will publish new courses for this learning path very soon.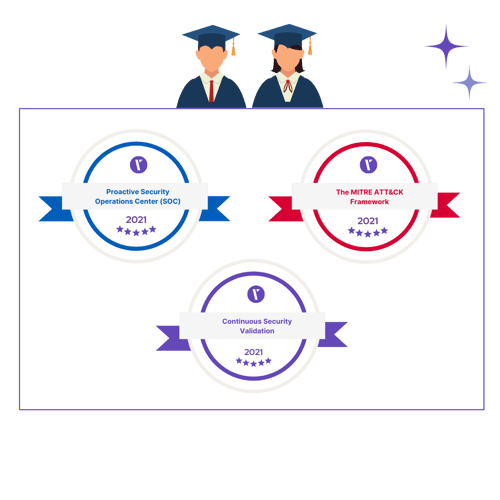 Our Values
At Picus Security, we're committed to supporting and improving cooperation across the security community. Here are some of the values that inspire us to create Purple Academy:
Curiosity: We are curious and thirsty for discovery. Our goal is to create a community that brings together enthusiasts like us.
Positive Global Impact: We celebrate people and organizations working to make a more secure world. We not only remove distance and separation by educating via an online platform, but we also make cybersecurity education accessible to practically everyone.
Creativity: Positive changes cannot occur in the world without creativity. As the pioneer of Breach and Attack Simulation and Continuous Security validation approaches, creativity is in our DNA.
Community: Purple Academy is a community give-back project. We are all stronger when we share knowledge with the community, invest in each other's capabilities, and improve cooperation.
Diversity: Currently, we have learners with various job titles from more than 1000 companies and 117 countries. We are stronger when we embrace diversity, and we regard this as a critical component of an academy for the community.
What are the next steps?
Over the coming months, we plan to add lots of great new content to help our students develop their skills. Feedback is always welcomed to help us determine new courses to add.
We are also planning to organize events, such as live seminar series to increase interaction among our students and Purple Academy and add new learning channels.
We look forward to continuing our journey together!